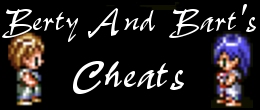 GAME GENIE CODES
Use Equip Strongest in equip menu to increase stats: EE64-DDDD D46D-D4FA Alternate code : EE64-D46D Greater damage: DD68-D7AD Attack power, Strength, Defense up to 999: DDE0-DDDD 14A9-D4FA 999 ATP/DFP/STR, up to 9999 damage: DDE0-1D69 Weapons will have the opposite effect when this code is enabled. Level 22 after one battle: EEEC-17A1 Level 99 after one battle: 6EEB-DDDD 17A1-D4FA Alternate code: 6EEB-17A1 No battles: DFED-F4D5 EE65-4F69 A46E-4D09 Alternate code: EEB7-1D00 999 HP: EEEE-4FD9 Unlimited HP when first activated, start at 999 after loading saved game. 13 gauntlets after equipping item: EEE0-1DD9 59 gauntlets: 5560-3FD3 Loaded games have maximum attributes: EEE0-1461 Load or start new game with 167 for stats: E3E9-17A1 HP will be set to 155, MP to 160. 1000 gold: EEED-4D65 20,000 gold: EEED-45A5 35,000 gold: EEED-4F05 Opponents always miss: EEE7-4FD5 Alternate code: EEE5-4FD5 Kill enemy with one hit: EEE7-44D5 Enemy will miss you: EEE5-4FD5 Unequipping an item will add an item: EEEF-17DC Get zircon armor when item is unequipped: 48EF-170C Get deadly sword when item is unequipped: 01EF-170C Get war rapier when item is unequipped: 0CEF-170C Get deadly sword when item is unequipped: 19EF-170C Get zircon armor when item is unequipped: 56EF-170C Get Silver Sword when item is unequipped: 17EF-170C Get many items when going to status screen: EEE2-1D0C

Get Gades Sword: In the game there are two ways to obtain the Gades sword, one from looking very long in the Ancient Cave and there is also another way. The other way is to defeat Gades the very first time that you encounter him. This is very difficult though. Gades Sword Stats:
| | | |
| --- | --- | --- |
| Description | Stat Effect | |
Glitch:
In the Ancient cave there is a sword who's name is messed up and looks something like "#-rf99r". It's IP is Wave Motion (Restores all HP and MP and Inceases Stats). So it is equivalent to having the Dual Blade. Thanx to adrian for this information. For An Extensive Cheat list for Fighting specific Monsters Visit the Game Genie Code Creators Club.